MockFlow WebsitePro provides a super-fast development platform to code, manage and host static Websites. Its beautifully crafted editor is built to focus only on creating static sites therefore it eliminates all un-necessary complexity and overhead that most editors have.
Live Preview
Live Preview opens side-by-side with code editor, as the user edits the code the changes are automatically reflected in the live preview window. With Live Preview, there is no need to refresh the website to see the changes.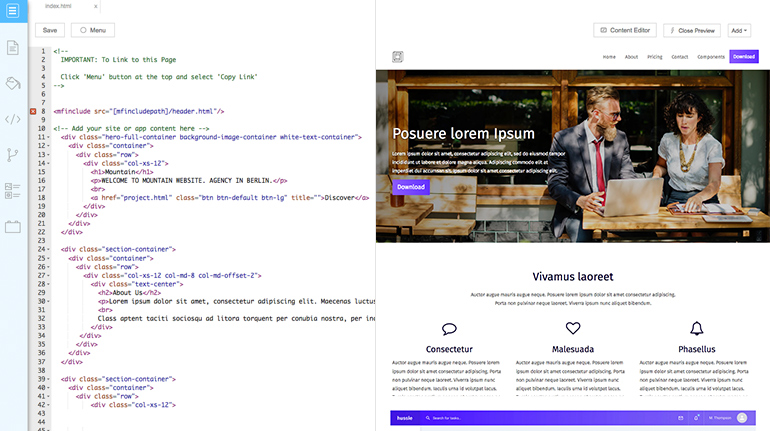 FTP
Apart from publishing Websites to WebsitePro servers, Websites can also be directly published to user's own server using FTP or even to any Amazon S3 based bucket.
WebsitePro

Publish
FTP
Amazon S3
HTML Includes
Using server-side languages like PHP just for 'includes'? Then Forget it. WebsitePro has 'HTML Includes' that lets users write re-usable HTML code for pages like header, footer without the overhead of server.
Template Store
It comes with an integrated Template Store for users to kickstart their website designs from pre-created Templates. Templates include features like responsive sites, parallax scrolling, dynamic galleries...
Backups
WebsitePro provides revision history for each file. And also users can create full-site backups in a single click that can be restored or cloned as new projects.
Why Static Websites?
Most sites do not require server-side languages or database calls for their front-end websites. By switching your front-end site to static (HTML/CSS/JS only), web pages render lightning fast with no server overhead and also with no security holes. A static site is served many times quicker thus improving page load time for the end-user and faster sites get better SEO ratings in search engines.